Bring the wisdom of multiple grievers into the classroom.
Widows
Widowers
Grieving Parents
Grieving children
Stillbirth
Grieving Siblings
A key element of both the Walking Through Grief singles and the Walking Through Grief toolkit is an "in their own words," where people along the journey share all aspects of the grief journey including the pain, shock, hope and healing.
Create your own learning environment by starting and stopping the videos as needed to emphasize and reinforce your learning environment.
Use the Walking Through Grief singles with the expertise of hosts Alan Pederson and Darcie Sims; Alan is a nationally known singer, songwriter and speaker on grief and loss. Darcie, one of the foremost authorities in the field of grief and loss shares her wit and wisdom as well as her compassion and understanding, which come from her personal experiences and formal education to teach an approximately 1 hour class on a variety of grief topics, including:
Handling The Holidays - Finding your way on difficult days
How To Walk With the Bereaved - Tools to support and understand those on the grief journey
The 5 H's - Hurt, Hope, Help, Honor, Healing 
A guide to the Grief Journey – a view of the journey from hurt to hope.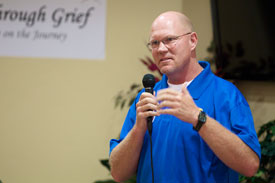 Walking Through Grief toolkit is a curriculum based, nine-part program that includes nine DVDs, a facilitator's guide, professionally developed handouts, and online support group management. The following topics are covered:
What is Grief
Am I crazy or am I Grieving? Part 1
Am I crazy or am I Grieving? Part 2
Different Grieving Styles
Charting a course for healing
How to handle the Holidays and Other Special Occasions
Things that Complicate Grief
The 5 H's: Hurt, Hope, Help, Honor, Healing
The Other side of Grief