Finding the Best Solution
We often have a lot of questions regarding what makes us different from Grief Share—and the quick answer is "a lot".  Let us show you how.
---
A Matter of Faith
Grief Share has very strong evangelical beliefs and uses the grief recovery program to express these beliefs. For people to have other beliefs or who are currently questioning their beliefs this can be challenging.
Walking Through Grief believes that a relationship with God is an important part of the grief journey and encourages this. However, we believe that the religious education should happen on an individual level with the local ministry staff and the individuals.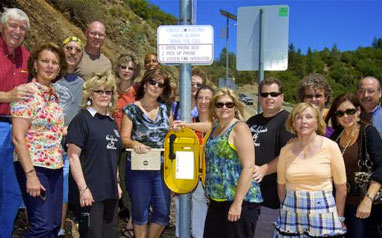 We're Kind of a Big Deal
The Walking Through Grief nine-disc DVD series is a non-denominational resource, offering hope and help while providing information and practical tools to those navigating the grief journey.
Hosted by grief experts, Darcie Sims and Alan Pedersen, the DVD set helps to educate and inspire individuals through their individual grief journey. There is no other bereavement support resource like The Walking Through Grief series.
Support Around the Clock
The purchase of The Walking Through Grief program includes access to the following:
Full interactive mini-website
Online resources include member directory
Group chat abilities
Private discussion forums
Virtual meeting place
Artwork gallery
Memorial gallery
Map and marketing description
Newsletter generator utilizing our extensive online resources
Shareable calendar
---
Still Not Convinced? Let's Look at the Side by Side.
| OFFERINGS | GRIEFSHARE | WALKING THROUGH GRIEF |
| --- | --- | --- |
| Offers hope, help, and healing for those going through grief | ✔ | ✔ |
| Includes A Comprehensive Facilitators Guide And Planner For Each Meeting | ✔ | ✔ |
| Professionally Produced, High-Quality DVD Presentation (With Closed-Captioning For The Hearing Impaired) | ✔ | ✔ |
| Offers User Friendly Online Marketing And Support Specific To Your Group | ✔ | ✔ |
| Does Not Require An Approved Church Affiliation |   | ✔ |
| Interactive Online Group Management Tool |   | ✔ |
| Suitable For All Religious And Non-Religious Organizations |   | ✔ |
| One Time Purchase Price Includes free Unlimited Participant Workbooks (via Website Download) |   | ✔ |
|   |   | LEARN MORE |