Are you a church leader or spiritual leader?
Walking Through Grief provides everything you need to facilitate the self-help and the healing your congregation needs.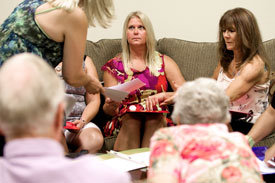 Run a Grief Support Group
Quick and Easy to start and run
Everything is included: DVDs, a facilitator's guide, and downloadable handouts. No additional materials need to be purchased, ever.
Designed to be run by volunteers.
No specific religious beliefs are espoused, allowing you to teach God as your Church believes.
Walking Through Grief Toolkit - The Walking Through Grief program is an informational and inspirational nine-disc DVD series offering hope to the bereaved. It includes all the different components necessary to run a successful Grief Support Group.
DVD Series
Worksheets for discussion and personal development
Facilitators Guide
Online grief support group manager
Provide Outreach Services
Walking Through Grief provides a variety of single DVD titles to be used as outreach at various times throughout the year. The titles are hosted by Alan Pederson and Darcie Sims, along with practical tools and advice offered from a diverse group of grievers to help the bereaved on their healing journey. Alan is a nationally known singer, songwriter and speaker on grief and loss. Darcie is one of the foremost authorities in the field of grief and loss. 
Topics Include
Handling The Holidays - Finding your way on difficult days
How To Walk With the Bereaved - Tools to support and understand those on the grief journey
The 5 H's - Hurt, Hope, Help, Honor, Healing 
A Guide to the Grief Journey – A view of the journey from hurt to hope.